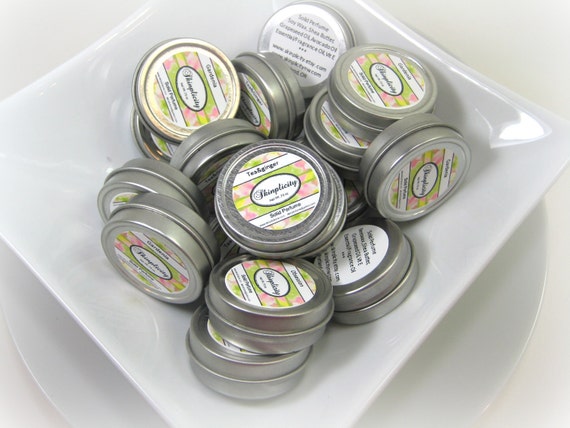 Do you like perfume? Are you sick of the chemicals and synthetic junk found in most name brand body spritzes?
Well, than
Skinplicity
is place for you! I was sent three samples of their natural, hand-crafted solid perfumes several weeks ago and that's what I'm hear to tell y'all about today.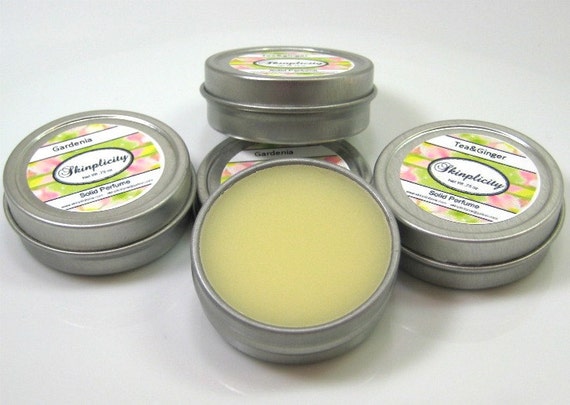 I was sent the
Green Tea
,
Amazingly Graceful,
and
Cashmere Mist
perfumes.
All three scents are very feminine and delicate. Not overbearing, but there just enough for you to notice and enjoy them. They come in elegant little tins that are perfect to put in your purse or for-on-the-go loveliness. Each perfume is in a balm-like format which is very easy to apply. Just swipe your finger over it and rub into your skin!
My absolute favorite is the
Green Tea scent.
It's amazing! I am a green tea addict and everything about this perfume attracts me. According to the Etsy page it's "a deep sensual blend of green tea blended with notes of lemon and bergamot with an oriental tone. This is a mild, gentle scent, light and soft, yet very green and fresh."
I agree with this description except for the sensual part. I don't really see what's so 'sensual' about green tea honestly. xP I mean, it's a amazingly healthy drink - I wouldn't connect the word sensual with it. Anyway, random tangent.
This is one of my favorite perfumes right now. I can't get enough of it! If I could I'd probably smother my whole body in it - of course, then my family would get annoyed because, well, that would be way too much perfume for just one person.
My second favorite is the
Cashmere Mist
one. Not only is the name fabulous but it's delightful girly and cozy smelling.
According to the Etsy listing: "A refreshing, woody arid scent blending of fresh floral jasmine, sandalwood and vanilla. A very feminine fragrance!"
No arguments there. It's a very pleasant scent, indeed.
Last but not least, the
Amazingly Graceful
perfume. "A uniquely feminine blend of soft, floral blossoms accented by a hint of light musk."
Truly, this is a very feminine and dainty scent. Light and delicate. If you're a girly-girl you probably will like this. (Yes that's making a major stereotypical assumption but hey, everybody makes assumptions!)
From what I've seen of Skinplicity, it's an awesome, reputable business. All the products are vegan, earth-friendly and chemical free.
| Visit the official
blog/website
.
| Like Skinplicity on
Facebook
,
|
Follow on Twitter!
| Check out the Skinplicity
Flickr
Overall, Skinplicity gets my stamp of approval and my thumbs up! I will definitely be enjoying my perfumes from this business.
Note: I was sent these items in exchange for my honest review/opinion.