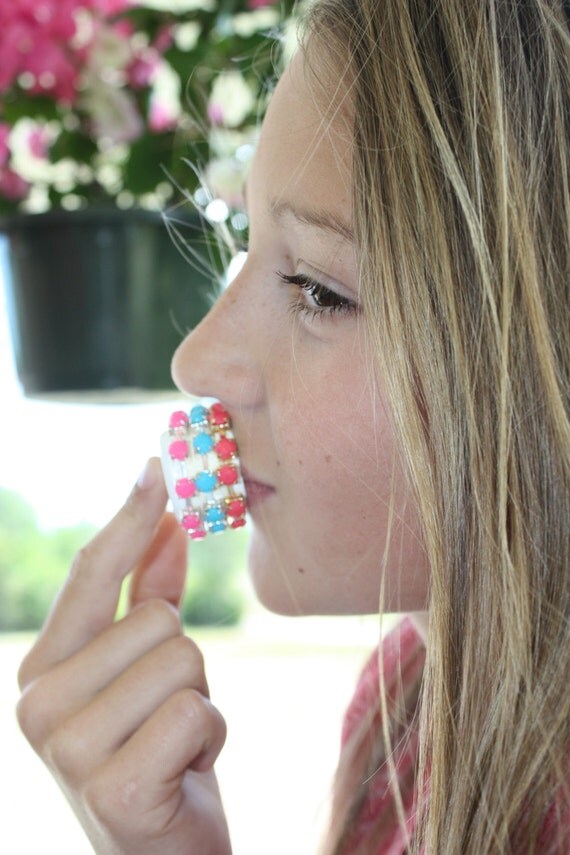 Hello ladies!
This is Leah Kathryn. You're probably wondering what happened to Bethany, right?
Well, unfortunately, she's been sick... (Get better soon, amiga!) so I'm covering for her today.
A thing that has been becoming increasingly popular lately is lip plumping.
Some women get it done through injections and harmful chemicals. Others, use more "natural" items like the
Liptiful
tool, which doesn't require injection or chemical - it's simply a PVC like piece which creates suction on your mouth, intended to firm up your lip/mouth area.
Liptiful sent me two of their plumpers a few weeks ago to review.
I was sent the
"Pearly",
pictured above, (photo taken from Liptiful Etsy shop) and a larger one.
The whole concept of using a plastic piece to create suction which in turn firms the mouth-area muscles is definitely rather intriguing. The individual pieces themselves are decorated really cute, too.
However, after some discussion on these items, with my dear Mom, I've been led to question further the entire premise of 'lip plumping.'
What exactly is the point?
We live in a society which tells us that big, poufy, "plump" lips are enviable and "sexy". Models and celebrities are seen flaunting huge lips - Many whose original form and size has been altered by surgical,
artificial
means - implants, or injections.
Is this the image of health and true beauty?
(Sorry if these pictures disturb you - I just wanted to show the reality of what is being displayed today as attractive!)
If you
already
have naturally full lips, I'm not saying you should somehow find a way to change that and make them
un
-full.
That would be ridiculous!
What I'm saying is, I believe lip plumping is something that's done
because girls and women aren't satisfied with how their lips already look.
(Do I catch a hint of ungratefulness?)
Obviously,
true
modesty and beauty revolves around being content with what God has already given you.
Now, some argue that lip plumping/exercise is no different than working out the
rest
of your body. But think about this for a moment. When you weight lift or go for a run, you're building muscle and keeping your body strong and fit; thus able to work and operate at the most optimal capability.
What does
lip plumping
achieve that's comparable to over-all body health? Does lip plumping burn calories, make you more physically capable of serving others, or help build discipline and good lifestyle habits?
Be honest with yourself, even though this may sound like a drastic question - do you think lip plumping points other people to God?
Do you think a Proverbs 31 woman would plump her lips?
Speaking of such, Bethany actually
did a post on lips
, some time ago, which has relevance to this topic.
As she stated therein, we can use our lips to ensnare and tempt, if we wish. We can use our lips to bring attention to ourselves, and very easily.
But is
that
true beauty?
Personally, whenever I hear "lip plumping", I just think that it's really nothing more than another attempt to be sexy. (And we all know that sexy girls aren't
modest
girls!)
So, overall, I'll have to give this product a thumbs-down.
Girls, you were made beautiful - yes, even your lips - from the very beginning!
And you don't need lip plumping to show this.
In Christ,
Note: I was provided this item from Liptiful in exchange for my honest review. All opinions stated are mine and mine alone.